Mira Co Rescue [0.5.1a - WIP] - NSFW
Mira Co Rescue - September Wrapup Report
---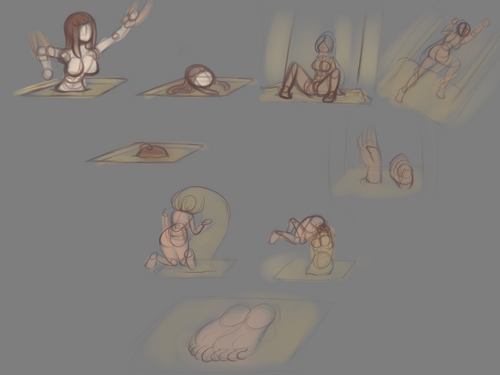 Update: Now with a small preview of an On Map Event!

Hello Everyone!
Making progress towards 0.5.0 and finished up the Halloween Game Over Sequence.
Over the two week break I've completed a few commissions to mix things up and can be found on my art twitter if you're interested in what I've been up to.
I have been reviewing what I have planned for On Map Events and I've decided to shuffle things around to give the last stretch of 0.5.0 more focused. Some of the On Map Events I had planned for the Desert Path will be moved to the Khrono Tomb to give it more of the Tomb Trap style of peril. The Desert Path will have a few surprises for later that I've hinted towards related to an enemy already there in addition to a side path that will open up post Khrono Tomb but will take the back burner for now.
So, the remaining items are as follows:
-Game Overs for Mummy Girls, Gold "Nebby," and the Winter Solstice
-On Map Events for the Khrono Tomb
I will likely save the Winter Solstice Enemy for last to make it more seasonal since we're already approaching winter. I will be finishing up the current commission I have and will start gestures and design docs for the Khrono Tomb so there is a bit more in progress work to show in the next mid month update.
I hope everyone had a good summer and the fall season isn't too filled with leaves to rake yet. Until next time!

Get Mira Co Rescue [0.5.1a - WIP] - NSFW
Comments
Log in with itch.io to leave a comment.
Woah! That is what I'm Talking About! Excited how the result is!
Do you still plan on releasing an intermediary build in October, if nothing else than to release the Halloween Game Over in time for halloween?
BTW, I never got the whole point of raking leaves. I mean the leaves add nutrients to the grass so it seems pretty counterproductive to lawn care.
Yeah, the plan is to release an update that includes the Halloween Game Over in time for Halloween along with some other bits and bobs.
More or less the disappointed looks of your neighbors and such I guess. Leaf piles are fun, but so far it has rained a lot so the leaves are kinda nasty now lol.

Don't give into peer pressure Ankh. Just leave (just noticed the pun while writing it) it alone. Take a page from Emma's book and let nature do its thing.