Mira Co Rescue [0.5.1a - WIP] - NSFW
Mira Co Rescue - July Wrapup Report
---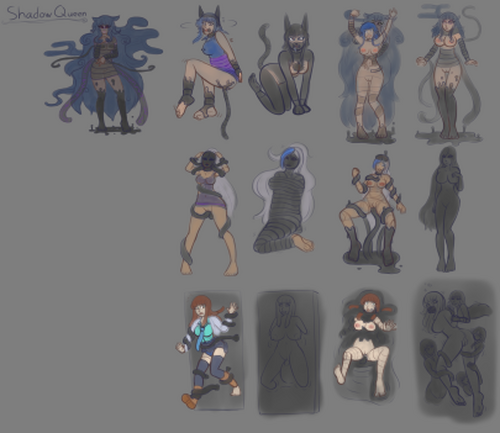 Hello everyone!
(I've posted the rough sketches as a preview, spoilers for those who don't want to see the boss yet)

July was another update month where we added Hemmy and Selena's Side events along with 2 more Game Over sequences.
Work on the boss of the Khrono Tomb is already underway as I am finishing up the Normal/Naked Battle Sprites and Enemy Sprite. Afterwards I'll be working on their Game Over sequence before moving onto another item for the 0.5.0 milestone build.

Remaining Items:
-Game Overs for Mummy Girls, Sarcophagus, Gold "Nebby", Winter Solstice, and Halloween.
-On Map Events for Desert Path
-On Map Events for Khrono Tomb
I hope everyone is having a good time with the update and is having a decent summer. It has been nice enough to go biking with the extreme humidity lifting for a little bit so that is nice. Until next time!

Forgot to ask, since I am tackling things one at a time when it comes to progress, should I be uploading periodic WIP builds that add things in piece by piece per usual or wait for more substantial updates (Battle Sprites/Game Over done, on map events)?

Get Mira Co Rescue [0.5.1a - WIP] - NSFW