Mira Co Rescue [0.5.1a - WIP] - NSFW
Mira Co Rescue - June Progress Wrapup
---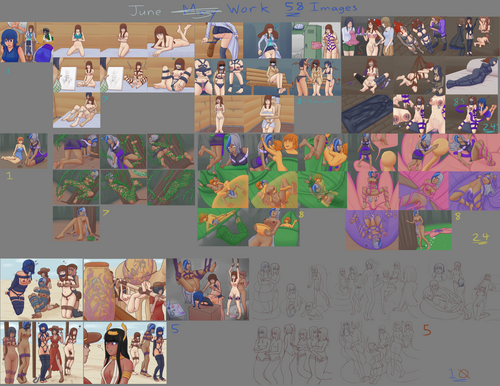 Hello Everyone!
Nearing the end of all the May Progress build items and just have the Rattlesnake Lamia Game Over images to complete before I begin programming and writing all these scenes into the game. I'm hoping to get the Rattlesnake Lamia Game Over images done this week and get a build out the following week but that is a tentative schedule. Since this weekend is a long weekend due to the 4th of July I am hoping to get this leg of the WIP build complete and begin planning the next wave of updates towards 0.5.0
To Recap, here is what still needs to be completed:
-Boss Battle Sprites/Game Over
-On Map Events for Desert Path/Khrono Tomb
-Mummy Girls/Sarcophagus/'Nebby' Gold Statue Game Overs
-(2 Holiday Enemy Game Overs: Optional, but open item for all remaining WIP items to be finished)
One of the open items to work on still revolves around the On Map Events for the Desert Path/Khrono Tomb. I am thinking that many of the Khrono Tomb map events would relate to the classic trigger traps and curses one may find in fantasy tombs with various perils.
Elements like this could vary in how they are presented. Triggering incorrect solutions to puzzles may trigger traps, stepping on bad tiles while dodging enemies, stuff like that.
There are also possible on map events that could trigger combat that only lasts a certain amount of turns before the party is fully caught. For example, falling into an antlion pitfall trap and slowly sinking into the center. Another room could potentially add levels of a status effect each time you walked on a certain tile and you would hit a cap/lose enough health in the room. I'd like to avoid time limits as those are never super fun in any game.
If people have things they'd like to see in the tomb feel free to suggest things since I am curious to see if there are things people would like to see in a peril game such as this with an Egyptian theme.
Get Mira Co Rescue [0.5.1a - WIP] - NSFW